Tech solutions radically accelerating the realization of local electricity networks
We are looking for proven technical solutions to realise a radical acceleration in the construction of local electricity works through improving activities such as (but not limited to) assembly of cable joints, cable selection and power cable installation
Challenge details:
We are looking for proven technical solutions for realizing radical acceleration in the construction of local electricity networks.
As a result of the energy transition, local power grids require ever-increasing expansion and capacity upgrades, while qualified technical personnel are increasingly scarce. Alliander currently spends €1,2 billion per year on this effort and expects this number to grow if it is to keep up with demand over the coming years.
Currently, typical activities for expanding and upgrading include installing secondary substations, increasing the power of transformers in secondary substations, laying and installing low voltage (0.4kV) & medium voltage (20kV) cables and realizing grid-to-home connections.
In the current way of working, we have identified various activities that take a lot of time and/or require highly specialized personnel, such as:
assembly of cable joints and plugs
cable selection / cable identification in the performance of work
power cable installation
We are interested in solutions that enable acceleration and that can be applied quickly (proven in practice). Ideally, the solution proposed can be easily implemented in our current way of working.
Context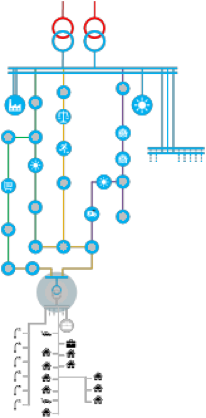 Alliander is one of the six DSOs in the Netherlands, and owns and operates about one third of the distribution grids. Dozens of primary substations connect the Liander network to the 150 kV and 110 kV grids owned by the TSO (TenneT). These primary substations supply power to medium-voltage (MV) distribution grids, MV customers (up to several dozens of megawatts) and additional substations. Additionally, Alliander also operates several high-voltage (50 kV) grids.
The distribution grid (10 kV and 20 kV) has a meshed design and is operated radially. It fully consists of underground cables. The MV grid connects both MV customers (up to 2 MW each) and secondary substations, feeding the low-voltage (LV) networks.
The LV grid (400 V) has a radial design and operation. It fully consists of underground cables. The LV grid connects to 3.2 million households and businesses.
Challenge owner
This challenge is owned by Dutch grid operator Alliander.

---