About Rethinking Energy
Rethinking Energy is an open innovation platform for the energy industry allowing firms to find and pilot solutions to their biggest challenges. To achieve this, nlmtd has developed a method to leverage solutions that have been proven in other geographies or even other industries. This method is based on innovation scouting, aimed at finding the best solutions with the potential to solve the challenges of top firms in the energy industry.


The process
The process on which rethinking energy is built consists out of 3 main phases; (1) shape, (2) scout and (3) pilot. The first phase focusses on discovering and formulating a clear firm challenge including the criteria to evaluate this challenge. Based on this challenge, nlmtd scouts the whole world for technologies, products and services which could help solve this challenge which are then evaluated together with participating firms. To quickly move towards a minimal viable product, these solutions are tested in a fail-fast 100 day pilot after which an evaluation is done of the results.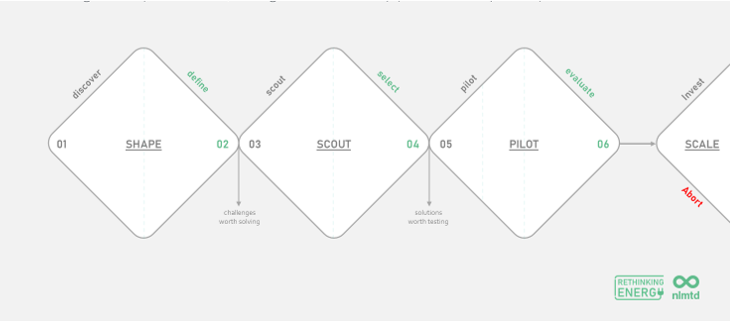 About nlmtd
nlmtd helps organisations to become Future Proof through strategy and innovation execution. Our team builds on their extensive experience in global corporate, consultancy and start-up organisations, and their entrepreneurial mindset and skill sets. nlmtd has a broad experience in setting up open innovation programs for global companies, especially in collaboration with the tech ecosystem.